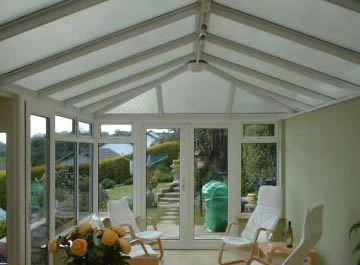 It's likely that your conservatory is one of your favourite rooms in your house. A light and wonderful addition to your home. The windows are essential to creating that inviting and spacious feel for you in the glittering sunlight. However, sometimes that same sun that your conservatory was built for can leave you wanting to escape it. What if you could sit in your conservatory and relax, without the excessive heat around you, glare on your electronics in the Summer, or the brittle cold enveloping you in the Winter months? Wouldn't it be wonderful if you could keep the benefits your conservatory provides you with, but eliminate what makes you want to escape after 5 minutes?
Well luckily, you can have your cake and eat it, or rather have your conservatory and use it, without needing to only admire it from afar. Solar film is a highly effective and long term way of combating these problems without breaking your bank account. The countless benefits of solar film on your windows include:
1:  It can prevent up to 80% of the sun's energy from entering your conservatory, which greatly reduces the health risks posed by UV rays, but also helps to keep glare off the screen of your computer and the blinding sunlight from your eyes.
2: It can reduce internal temperatures by up to 30F, keeping your conservatory cool during those hot Summer days.
3:  It can reduce heat loss during the Winter, making it possible for you to enjoy your conservatory all year round.
4: It can reduce damage to your flooring and furnishings caused by UV rays.
5: You can choose from a range of aesthetically pleasing films to compliment and enhance the look of your conservatory, while giving you additional privacy, or a film that is basically invisible if you prefer.
So, if you're having issues with the temperature and amount of light in your conservatory… Don't put up with it for a moment longer.  Instead, contact us and ask for a quote on getting your windows fitted.