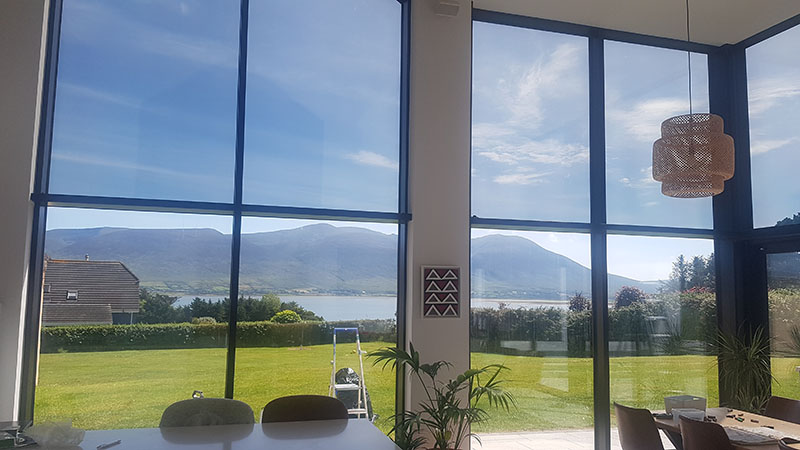 Find out how window film could transform your home or office
As Summer rolls around again and we get to enjoy the sun, for however few days it decides to appear, there can be some issues in our homes that we may not have realised in the winter months. Window film can hold the answer for a range of those problems, while maintaining the overall appearance of your home and without obstructing your views.
Check out our list of five uses for window film in your home below;
Decrease heat – For example you've set up your home office near a window so you can enjoy the view while you work but now the heat from the sun is causing too much of a distraction. Window films can reduce unwanted solar heat entering through your windows by up to 81% depending on the strength of film you choose, making for a far more comfortable working and living environment.
Reduce glare – Everybody knows the frustration of glare on the screen while trying to watch television or work on your computer. Whether it is glare from the sun, water or another building we have a film that will be the perfect solution to your problem without having to obstruct your views with curtains or blinds.
Energy Saving Costs – Reducing temperature imbalances caused by extreme sunlight is why so many architects, designers and building engineers choose window film. Reducing heat loss will increase HVAC efficiency and lower energy costs all year round.
Reduce Fading – UV Film blocks 99% of UV Rays which are responsible for up to 60% of fading. This offers protection for valuable furnishings in the home or office, shop displays and hospitality spaces. We apply it discreetly to the inner face of the glass, enabling not only complete clarity for visibility, but also maximum protection.
Provide Privacy – Privacy can be an issue if your windows are facing a road or public space. Our obscure and "one way" films provide perfect privacy for our clients from unwanted attention.  The "one way" films allow you to see out clearly during daylight hours but nobody is able to see in.
As you can see above there are a number of different types of window films available for a range of different effects. They also come in a range of shades so you can choose which one suits your project needs best. If you have a problem like any of the above or if you would like to know more about window films or any of our services please get in touch via our contact page. We have a nationwide service and offer free site surveys so we are happy to arrange a visit to chat with you in person.
Sign up for more updates and news from Coatek