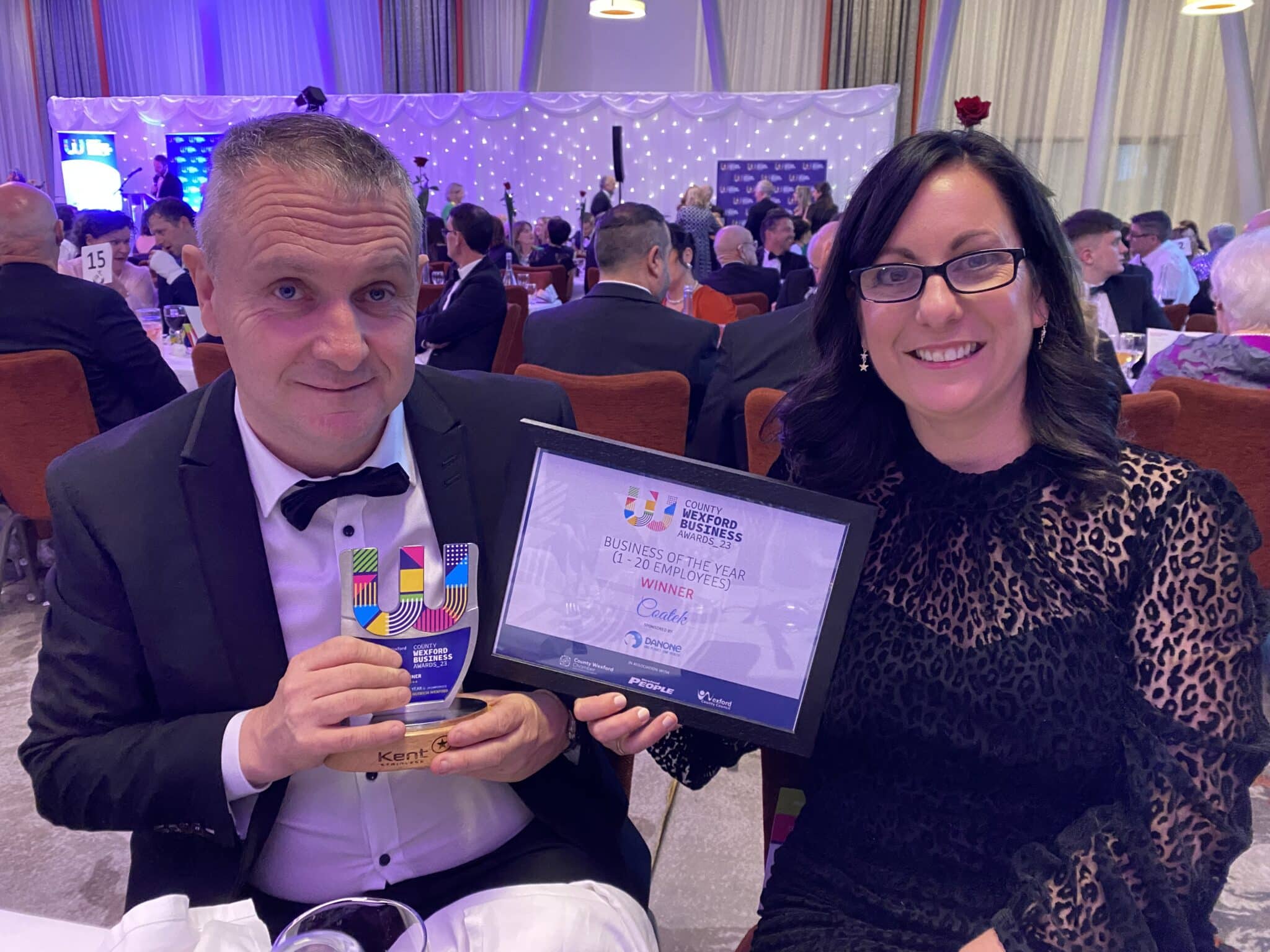 The Coatek team were delighted to be recently awarded the prestigious Business of the Year (1-20 Employees) award at the 2023 County Wexford Business Awards. The awards are organised by County Wexford Chamber with Wexford County Council as the headline sponsor, and are widely seen as the benchmark for business success in the county.
The awards ceremony was held in Clayton White's Hotel in Wexford and was attended by 500 delegates from businesses across the county. The Business of the Year (1-20) employees category was sponsored by Danone and Coatek was chosen from a list of six finalists with Harte Outdoor Lighting taking the runner up position.
Coatek was established in 2005 as a small auto tinting company with a vision to provide high-quality services to its clients. Over 19 years later, we have grown significantly and have successfully expanded our products and services into home window tinting, commercial window tinting, commercial wall graphics, signage and manifestations, completing vast projects across the country.
We pride ourselves on delivering projects on time, within budget, and to the highest standards. Coatek's success can be attributed to our commitment to excellence, attention to detail, and to an excellent team of dedicated professionals who put the customer at the core of our business.
Hugh Kenny, Managing Director, Coatek said he was delighted to win the award and that it is a recognition of the incredible team that works at Coatek.
"We are absolutely thrilled to have won the Business of the Year award at the County Wexford Business Awards 2023," said Hugh Kenny. "This award is a testament to our team's hard work and dedication, and we are incredibly proud of what we have achieved. We would like to thank the County Wexford Chamber and the judges for this recognition, and we look forward to continuing to provide top-quality services to our clients in the region."