Honeycomb Café: 
Branding With Quality Signage
Client: Honeycomb Café
Industry: Food and Beverage – Cafe
Location: Dublin City Centre
Honeycomb Café, an internal eatery in a multinational companies head office in Dublin City, embarked on a project to enhance the aesthetics and visual branding of their space. They realised the importance of creating a unique and visually appealing atmosphere for their customers. Coatek's goal was to transform Honeycomb Cafe's interior space, incorporating custom-designed elements that align with the cafe's brand identity and create an inviting environment for patrons on arrival.
Project Objectives:
Honeycomb Cafe aimed to revamp their interior space, focusing on specific elements to create a memorable first impression for their customers on entering the premises. Understanding this vision, Coatek's design team collaborated closely with the client to create customised solutions that would bring the desired aesthetic to life. The following solutions were provided:
Hexagon Shelves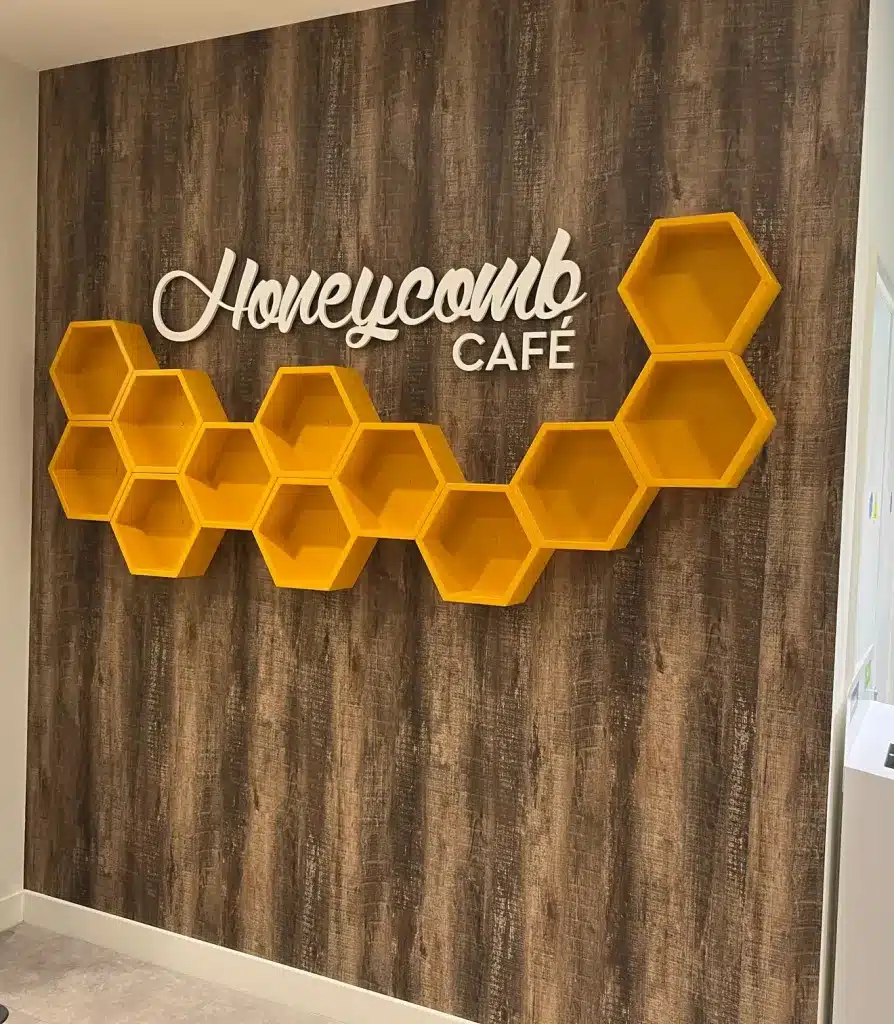 Coatek designed and installed 12 hexagon-shaped shelves that formed the base for an eye catching visual piece replicating the structure of a honeycomb. These shelves, painted in a vibrant golden yellow, added a unique and visually appealing element to accompany the café's logo.
Cafe Logo
Nestled amongst the honeycomb shelving is a 10mm acrylic logo featuring Honeycomb Cafe's signature font. This logo was skilfully bonded to the wall, creating a striking visual element that immediately catches the eye of customers as they enter the cafe.
Timber Effect Wall
Coatek installed a rustic timber effect architectural finish to complete the feature wall, using "NF83 Driftwood Brown" from the Cover Styl' range, as per the client's preference. This wall covering added a touch of warmth and character to the space and complimented the signage elements.
Results and Benefits:
Coatek's collaboration with Honeycomb Cafe resulted in a stunning transformation of their interior space, successfully achieving the following outcomes:
Enhanced Aesthetics
The installation of the hexagon shelves, cafe logo, and timber effect wall significantly enhanced the overall aesthetics of Honeycomb Cafe. The unique design elements added a sense of style and personality to the space, creating a memorable and visually appealing environment for customers.
Brand Reinforcement
The prominently displayed cafe logo bonded to the wall served as a powerful brand reinforcement tool. It increased brand recognition and helped create a strong brand presence within the cafe, leaving a lasting impression on customers.
---