Transforming Rascor International's Irish and UK Headquarters 
Industry: Construction – Structural Waterproofing Systems
Location: Gorey, Co. Wexford, Ireland
Rascor International, a leading provider of structural waterproofing systems, embarked on a mission to establish their Irish and UK Headquarters in Gorey, Co. Wexford. Recognizing the importance of creating a visually appealing and comfortable office space, they turned to Coatek, a trusted name in window films, wall coverings, and signage solutions. Coatek's goal was to transform Rascor's workspace, aligning it with their unique brand identity while improving the working environment for their valued staff.
Client's Objectives:
Rascor sought to revamp their office space to reflect their corporate brand and create an inviting atmosphere. They aimed to incorporate their distinctive brand colour throughout the graphics and signage, ensuring a cohesive visual representation. Their ultimate goal was to enhance the working environment, providing their team with a state-of-the-art and comfortable office space.
Coatek's Solution:
Understanding Rascor's vision, Coatek's design team collaborated closely with the client to create customized solutions that would bring their desired aesthetic to life. The comprehensive range of products and services offered by Coatek perfectly aligned with Rascor's needs. The following solutions were provided: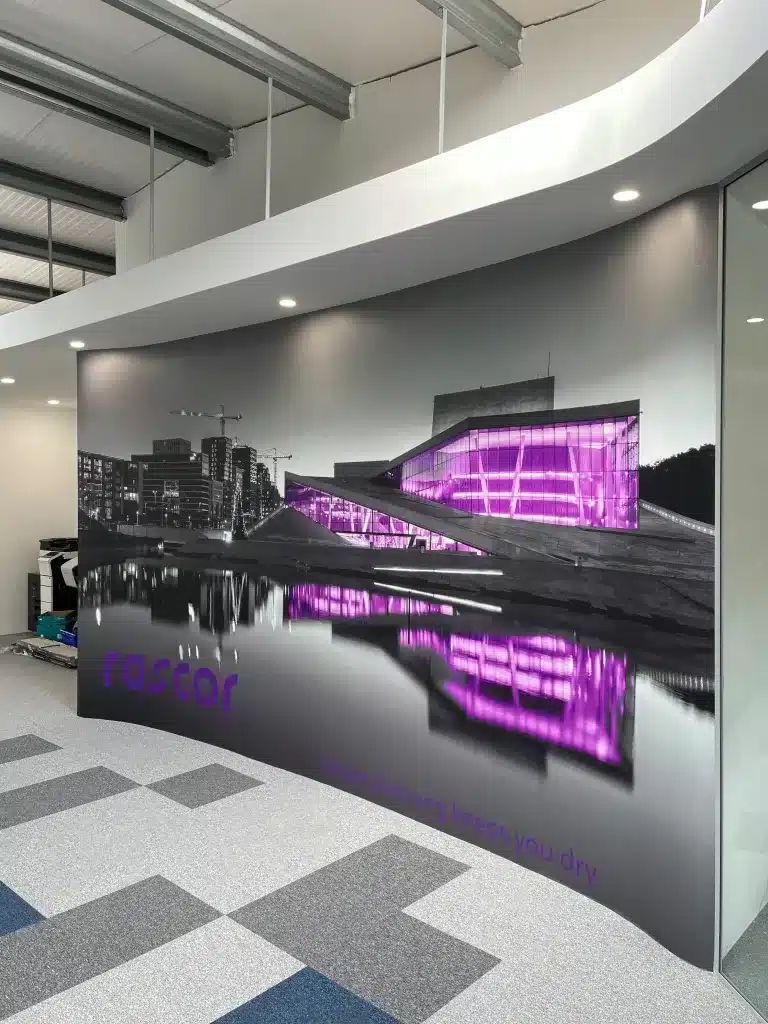 Wall Graphics
Coatek leveraged their expertise in wall coverings and signage to design captivating graphics for the main office spaces and canteen. By incorporating Rascor's brand colour, they achieved a visually striking representation of the client's corporate identity throughout the office space. The full colour matt laminated graphics not only added an element of sophistication but also served as a powerful branding tool for Rascor.
Signage
To further enhance Rascor's brand visibility, Coatek installed illuminated signs in the reception area as well as to the exterior of the building. These built up aluminium signs were finished in a brand colour match paint and not only made a bold statement but also created a warm and welcoming ambiance for visitors and staff alike.
Window Film
Recognizing the importance of glare reduction and maintaining a comfortable temperature within the workspace, Coatek applied Argent 80 solar film to prevent these issues. Rascor benefitted from enhanced glare reduction, and protection against excessive heat and fading.
Van Graphics
To extend Rascor's branding beyond their physical office, Coatek provided a full van vinyl wrap graphic that showcased the company's logo, key messages, and contact information. This mobile branding solution increased Rascor's visibility and brand recognition when on-site or traveling.
Results and Benefits:
Coatek's collaboration with Rascor International Ltd. resulted in a stunning transformation of their Irish Headquarters. The integration of Coatek's solutions achieved the following outcomes:
Brand Consistency – By incorporating Rascor's distinctive purple colour throughout the graphics and signage, Coatek successfully maintained brand consistency and reinforced Rascor's identity.
Enhanced Aesthetics – The installation of visually captivating wall graphics, illuminated signs, and manifestations added a touch of elegance to Rascor's office space, creating an inviting and professional environment.
Improved Working Environment – Coatek's window film services effectively reduced glare and excessive heat. Rascor's staff now enjoys a comfortable and productive workspace, promoting employee satisfaction and well-being.
Extended Brand Reach – With the addition of van graphics, Rascor gained mobile advertising that showcased their brand message wherever their vehicles travelled, increasing brand visibility and attracting potential clients.
Conclusion:
Overall, the collaboration between Coatek and Rascor resulted in a successful transformation of Rascor's Irish Headquarters, creating an improved working environment for their staff. Coatek's commitment to delivering high-quality solutions and their ability to understand and execute Rascor's vision played a vital role in achieving these outcomes. For further information on how Coatek could help you transform your office or workplace visit our product pages or contact our team.
---